Jump to: Become a Ref | Training | Ref Jobs | Background Check & Training | Resources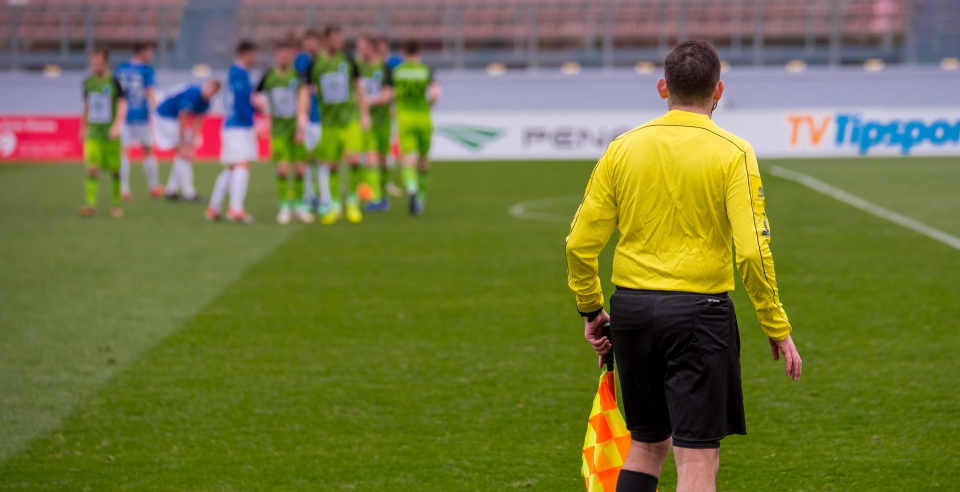 Becoming a soccer referee is a great way to stay fit, work with friends, and earn some extra cash! Thief River Falls Soccer Association is always looking for referees, especially adult referees to referee our travel team home games.
Become a Referee
You must be at least 13 years old to be a referee. Adult referees are required to referee older travel teams.
All Referees and 18+ Referees
Referees must be USSF certified, complete concussion training every three years, and referees over 18 must complete a background check.
Special Requirements for Referees under 18
Referees under the age of 18 must submit a letter to the club from your parent(s)/guardian granting consent for you to perform the activities as a referee or assistant referee.
Additional Requirements for Referees under 14
Referees under 14 must have their parent(s)/guardian sign a exemption application from the Department of Labor and return the signed form to the club. The form may be found at http://www.doli.state.mn.us/ls/exemptions.asp and by selecting the "less than 16 years of age" form.
Interested in becoming a referee?

For more info and to be assigned games, please email trfsoccerpresident@gmail.com, Coaching Director Robert Russillo (robert.russillo@gmail.com) or any TRFSA board member.
Training
To become a USSF certified referee, complete the training at the MNSRC website and pay the $60 registration fee (all TRFSA refs are reimbursed for their registration fees). New referees must complete 7 hours of online training and then attend a classroom clinic for in-person training. Clinic dates and locations are available at the MNSRC website.
As a new referee you need to select the Grade 8 track for certification. It is recommended to start the process early in the year (usually January or February) in order to reserve a spot for the classroom sessions. You must complete the online training before being able to reserve a classroom spot.
After completing you certification you will need the proper referee equipment. You can purchase a ref starter kit from www.officialsports.com and if you get an alternative jersey we recommend black.
Online Training
Referees must complete online training, which takes several hours (so be sure to start early) and then complete an in person clinic (the closest host is in Detroit Lakes).  All the information below can be found at: https://www.minnesotasrc.com/

Step 1: Register with www.minnesotasrc.com
New referees must start the registration process by first creating an account on this website. If you haven't done so, please navigate to the " Create Account" page and set up your account.
Included in the account creation process is the requirement to select one or more clubs or competitions you plan to work for. When you declare for a club or competition, that club/competition's assignor will then be able to track your progress and have access to your email to send you updates and instructions. Furthermore, you will see the contact's name and email and be able to contact them as well.
You can view the training clinic list for the entire state (but not sign up for them... you have a few more steps to complete before you get that far) via a blue button that appears in the right-hand dark blue column. If you view this list while logged in, it will automatically list clinics within 40 miles of your home address at the top.
Step 2: Pay Your State Administrative and US Soccer Registration Fees
The website only allows progress to each step if you have completed the one before it, and the first step you have to complete after creating your account is  paying your 2019 fees . These fees are divided into a non-refundable $20 State Admnistrative fee  and a $40 US Soccer Referee registration fee. The MNSRC website accepts payment by credit card only.
Step 3: Complete the Online Training
Once you have paid your registration fees, you will be able to access the "Online Material" page from your Referee menu on the left side of the screen. When you click on that, you will gain access to the full online portion of the training, 24 video modules that take about 8 hours to complete.
NOTE: Online training takes time!  You will need AT LEAST several hours a day for 3 days to complete them.  Give yourself plenty of time to complete the training.
Step 4: Sign Up For and Attend Your Clinic
After completing all of the online modules, follow the "Clinic Sign-Up" button in your "Referee" menu. This will allow you to sign up for the clinic you want to attend.
NOTE: Our closest clinic is hosted by Detroit Lakes.
Step 5: Pass the USSF Grade 8 Test
Once you have completed the class and are credited with attendance, you will gain access to the USSF Grade 8 test. This is a final test, 51 questions long, and passing score is a 40 out of 51. You will be given the opportunity to review the test, including an explanation of every question you missed, and then will be permitted to retake the test immediately if need be.
Once you pass your test, your account will be certified by the State Referee Administrator and you will be mailed your 2019 USSF badge. Please make sure your address is accurate. You will receive only one badge. Additional badges, if you lose yours, are available for $3 via purchase through our website, pending a sufficient supply.
Step 6: Background Check (for any referee 18 years or older)
If you are 18 years or older, you must complete a  background check on the Minnesota Youth Soccer Association website . If you will be under 18 years of age for the entire season, you do not need to complete this task.
OR
Step 6: Finish MSHSL Certification
If you are over 18 and are planning to work high school games in the fall, please  proceed to the MSHSL website for information on their further requirements.
REMINDER: TRFSA will reimburse coaches for their training fee once they have refereed a game for us!  It's a great way to earn extra money while helping your local soccer program and community.
TRFSA Referee Jobs
To referee games in Thief River Falls, please select us in your MNSRC profile and signup for the referee program on this website under the Leagues tab.

You may mail or email forms to the following:
TRF Soccer Association
P.O. Box 921
Thief River Falls, MN 56701
All referees over 18 MUST complete a background check and SafeSport Sexual Harassment training
All referees turning 18 before August 31 of this year are required to complete a background check and sexual harassment training.
To complete the background check, you will need to create an account (if you don't already have one) with MYSA's affinity sports platform.
Once you complete the background check, you will receive an email verification and a code to complete the SafeSport Sexual Harassment and Concussion training. You will need the code from the email to access the training.
SafeSport Sexual Harassment Training
All referees over 18 must also complete concussion training every 3 years. This is a MN Law and must be done. Once done please send your completion certificate to trfsoccercoaching@gmail.com. If you have a current certificate, please email a copy to the coaching director.
Note: Heading is not allowed for players 11 and under.
Additional Resources
There are various resources available to referees, many of which can be found at the MNSRC website. Below is a list of some resources:
Advice to Referees on the Laws of the Game - This is a useful resource that provides detailed examples and interpretations of the laws of the game. We recommend new referees use this in conjunction with the Laws of The Game in order to improve understanding and foul recognition.
Laws of the Game - The "Rule" Book. This is simply the laws of the game with no examples. Good resource but recommend consulting the Advice to Referees... for new referees and returning referees who want a more comprehensive refresher.
Referee Prep Game - Our club will try to hold a scrimmage with 2 teams at the beginning of each season for new referees to come and get exposure to the soccer game. Each referee will have an experienced referee as a "shadow" who will then give the new referee helpful tips and pointers.
http://www.watchandwhistle.org/